Donate To Abruzzo Earthquake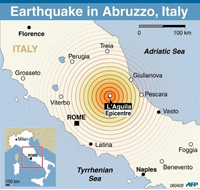 L'Associazione Culturale Italiana Di New York asks the New York City community to support Italy in its time of national crisis.

On April 6, 2009, an earthquake struck L'Aquila in the Abruzzo region of Italy killing hundreds of people and leaving thousands more injured, displaced and homeless.

As of May 15, 2009, the numbers were:
298 dead, 1,000 injured, 65,000 people displaced, 15,000 buildings damaged or destroyed, 49 towns/cities affected. While the immediate relief needs are being adequately met by the Italian government and emergency services, funds are needed to rebuild.

Donate to the Abruzzo Earthquake Relief Fund and do your part in re-constructing a part of Italy, a part of our culture. L'Associazione Culturale Italiana Di New York is dedicated to helping give back to a community that was struck by a tragic earthquake on April 6, 2009.
How will the money be used?
As in the earthquake in the Molise region where 27 children lost their lives, we have teamed up with the foundation 'SPECCHIO DEI TEMPI" which is headed by the "LA STAMPA" newspaper and the AGNELLI family (Fiat Auto) of Turin, Italy. On that occasion, in record time, we built the elementary school in Bonefro, Molise. To continue in this well oiled collaboration, we will help to fund the construction of the elementary school in POGGIO PICENZE, ABRUZZO. The school is scheduled to be inaugurated by Sept 15th, 2009 which is the start of the new school year. This will be one of the first such projects delivered to the suffering people of the region.

Please donate to the Abruzzo Earthquake Relief Fund today: